Wisconsin Gold Rush Days 2008
This was the first year for the Wisconsin Gold Rush Days put on by all four Gold Clubs in Wisconsin. It was a success and we will be putting on another Gold Rush Days next year. We had rain on Friday night and the rest of the weekend was we had great weather for the show. Here are some pictures from the show of 2008.











Here we are setting up for the Gold Show

These are some of the venders at the show.







These booths are from the four Gold Clubs in Wisconsin

This is the Gold panning contest to see who is the fastest in the state.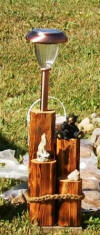 One of Randy's solar lights that he makes



Sandy Brandi who wire wraps Gems.
Here are some pictures from Mike Fait