This is my work shop.

My new faceting work bench.

These are my Tumblers

These are my cutting saws, a 8" and a 4"

Some of my cutting material

Some of my North Carolina Gems.

Some of my Michigan Gems

This is my Graves Mack 1 Faceting machine

My other equipment.

This is my cabing machines. The one on the right is a Lortone and the one on the left was built at a shop in North Carolina.

This is my Pro Dop Set

This is my original dop set and transfer jig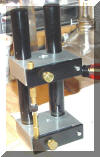 I just bought this Transfer Stand from Jarvi it is the best one I have seen.

Check Out the best long distance rates